Polly Osborne, FAIA Selected Art Exhibitions
:
2023 – Private Art Commissions ongoing

2022 – Beatrice Wood Center for the Arts "The Presidents Show" American Ceramic Society
2019 – 2022 – Still Life Studios Gallery
2018 – Channels Islands Studio & Gallery Juried Group Show
2000-2019 – Clay House Gallery
2014 – Museum Design Consultation and 17 ft. tall Cobra Sculpture Designed for Shelby Motor Foundation Museum
2014 – Installation of Alien Botanical Sculptures, River Ranch
2013 – Monterey Museum, Alvarado Gallery "Alien Botanicals" An urban forest of Aliens accompanied with a Field Guide and Botanical Drawings
2012 – Installation of "Outposts", Carmel Valley, CA Sculpture on hill above the Carmel River
1995 – Featured Artist, Brookside Gallery, Yosemite National Park
1995 – Member, LA ArtCore
1994 – Featured Artist, Ten Women Gallery, Santa Monica, CA.
1994 – Featured Artist, Hello Artichoke Gallery, Santa Monica, CA
1993 – Featured Artist Deanna Miller Gallery, Bergamot Station, Santa Monica,


Education
Undergraduate: San Francisco Art Institute & Antioch University
Masters in Architecture: Southern California Institute of Architecture
About Polly
Polly Osborne is an artist exploring the relationship of man and nature. Currently her focus is about the irony of that clash.
As an example, in the "Alien Botanical" series, a fantasy plant appears in nature, is given scientific names, and bears resemblance to naturally occurring species. It is both delicious and invasive. The presentation is a sculptural forest representing these mycological fantasies.
Polly Osborne is also an architect. Her work has been published in many books and magazines and she has won many awards, including the prestigious Nathaniel A. Owings Award from the California Architectural Foundation. In 2013 Polly Osborne was initiated into the American Institute College of Fellows, an honor given to less than 2% of US architects.
Architectural Philosophy:
Architecture is rooted in the site. Getting to know the site is key to living in harmony with natural elements. Architectural goals include reducing impact through minimizing resource consumption, creating habitat and creating net zero energy use. Materials are intended to be responsible environmentally, durable, and beautiful. Details are what make living in a home a joy close up. When you can delight in the way wood and plaster meet, or the shape of a scupper, you are having a good day. The best way to achieve a comfortable environment is through natural cooling, heating and ventilation.
Art Philosophy:
Making art is a personal adventure that opens my mind to a world of fun. It can be amusing or meaningful or both. It can wake us up to action and put us to bed with a cozy feeling of familiar vision. Whether shocking or peaceful, it communicates the time and place of its creation.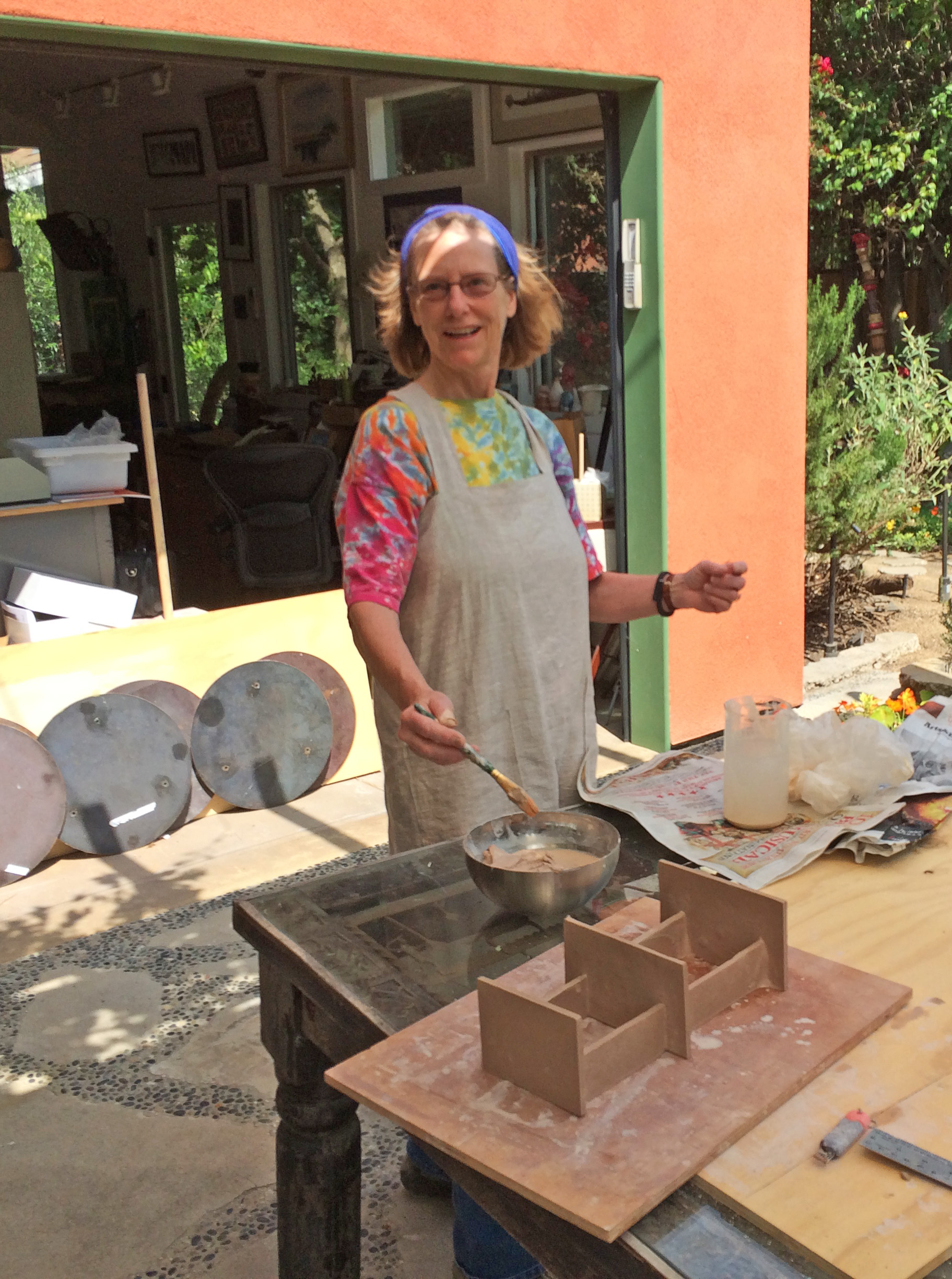 OUTREACH & EDUCATION
A Nossa Casa, Maputo, Mozambique, 2009-present
University of Southern California, 2010
AIA Committee on the Environment, 1993-present
City of Los Angeles Green Team, 2010
U.S. Green Building Council Green Guide "Ask a Pro," 2010-present
City of Santa Monica Civic Center Sustainable Design Charette, 1995
Los Angeles Environmental Building Conference, 1992

LECTURES & TOURS
Altbuild Conference, Santa Monica, 2010
AIA COTE: "Beyond Prefab" Containers, Dirt & Other Affordable, Green Strategies forResidential Construction
Reencontro: A Nossa Casa—A community approach to caring for and empowering the children orphaned by the AIDS pandemic,
2010 Maputo, Mozambique
Los Angeles Bioneers, 2009
Guest lecturer: Environmental Swiss Replica Omega Watches For Sale  Movements Local to California and the Global Effects 
San Fernando Valley Bioneers, 2009
Guest lecturer: Site Specific Architecture in California and Africa
Bioneers are innovators from all walks of life who examine living systems to learn how to
mimic nature in order to serve human ends without harming the web of life.
University of Calgary, 2009
Guest Lecturer, Environmental and Site Specific Architecture
AIA-Monterey Bay Sustainable Buildings Tour, 2009
Tree House
2008 AIA Monterey Bay Public Lecture
The Work of Will Shaw, FAIA
Monterey Environmental Building Expo, 2008
Site Specific Architecture and Green Building
Altbuild Conference, Santa Monica, 2008
Site Specific Architecture
Build it Green, Downey, CA, 2007
Green Design, two case studies
Build It Green Design Tour, South Bay, CA, 2007
Featured green buildings of the San Mateo County Area. The Taiji House was the most
visited house on this tour and was voted the "People's Choice."
Stanford University Sustainable Design Study, Menlo Park, CA, 2007
A field trip and lecture at the Taiji House for Stanford University students
"Our Town" Monterey Television, 2007
TV guest on the show "Our Town" discussing the elements of green design and examples on
the Monterey Peninsula
Society of Architectural Historians Tour, Monterey Peninsula, 2004
This tour featured significant Monterey Peninsula early-twentieth-century buildings of
George Washington Smith to the present. Examples of Polly's work were included along with
such significant architects as Cesar Pelli and Charles Moore.
Eco-Expo, Los Angeles, CA, 1994
Panel on Site Specific Design
Los Angeles Environmental Building Conference, 1993
Event Chair and Moderator
Occidental College, Los Angeles,1992
Guest lecturer: Careers in Architecture
Sacramento State University, 1990
Guest Lecturer: "Site Specific Architecture"
Group Show: "Site Specific Architecture" at SSU Gallery
AWARDS
AIA AWARDS
2009 AIACC Foundation Nathaniel Owings Award
For outstanding accomplishments in the preservation of nature in relation to the California
built environment
2009 AIA Monterey Bay Honor Award
Preston Way Residence
2009 AIA Monterey Bay Exemplary Sustainable Design Award
Preston Way Residence
2007 AIA Monterey Bay Citation Award
Taiji Residence
2000 AIA Monterey Bay Award for Design Excellence
Tree House (The jury also praised the project's environmental sensitivity.
DESIGN AWARDS
2011 Pacific Grove Heritage Society Heritage House Award
Gordon Residence
2008 Build it Green, South Bay Green Home Tour People's Choice Award
Taiji Residence
2008 Sustainable San Mateo County Residential Award of Highest Achievement
Taiji Residence
2008 Green Building Award Single-Family Residence Winner
Taiji Residence
2002 The HomeBook Gold Medal in Furniture Design
Anderle Residence
2002 HomeBook Silver Medal in New Homes under 5,000 square feet
Tree House
2002 HomeBook Silver Medal in Residential Remodeling
Dowse Residence
1984 First prize, Morcote Castle Design SCI-ARC
Vico Morcote, Switzerland
1983 Vico Morcote "Excellence in Design"
1982 Cal-Poly Site Design Award First prize
Cal Poly Design Village

PUBLICATIONS
BOOKS
The Green Home, Sunset Publishing, 2010
Taiji Residence
Rubble with a Cause, Jonathan Dobre, 2003
Designing Dreams: The Los Angeles Home Book, Third Edition, 2002
Furniture, Tree House, Dowse Residence
Outdoor Rooms, Julie Taylor, 2001
Chemel Residence
Design with Spirituality, 2001
Anderele Residence
West Coast Rooms, Edie Cohen, 2000
Chemel Residence
PERIODICALS
Green Builder, May 2009
Taiji Residence
Western Interiors & Design, 2007
Furniture for Baer House
Kitchen Trends Volume 16, 2000
Poncher/Ogle Residence
Sunset Magazine, March 1996
Chemel Residence

RADIO
"HomeWizards"
Polly was interviewed for this talk radio program by Cindy Dole in October 2010